BIO
The Bucket Band is a group of veteran musicians based in Kansas City, MO, playing the great songs from the 1960s and early '70s - the "Golden Age of AM Radio." The members grew up playing in various bands in the Midwest, getting together as The Bucket Band in 2012.
According to keyboardist-guitarist-vocalist Tim Coulter, "What's different about this band? We had all just grown tired of playing the same old songs that everybody else is doing, and decided it was time to play some songs that nobody's done before." Lead guitarist Bill Bishop also spent time in some tribute bands, from Boston to Bad Company to the Doors - as the lead vocalist and guitarist, but had always wanted to sing some songs by Glen Campbell and Neil Diamond - and he's capable of covering anybody! Kerry Beach, bass guitar and vocals, is excited to get to play the music he grew up with. Brian Eads, who's played in national touring bands including Rampage and ZZ-KC, rounds things out on the drums, while also pitching in on lead and harmony vocals.
So The Bucket Band is able to cover just about anything! "We do a couple of later-period Elvis songs, and several Beatles songs, but there's a lot of variety. From the Monkees, the Beach Boys, Temptations, Rolling Stones, Neil Diamond...really all the music that we loved growing up." The audiences seem to love it, too. "People come up after we play and tell us how great it was to hear a band playing these songs. It's just 'feel good' music." 
Tim Coulter - keyboards, guitar, vocals 
Bill Bishop - lead guitar, vocals 
Brian Eads - drums, vocals
Kerry Beach - bass, vocals 
Short Bio
The Bucket Band, based in Kansas City, plays the hits from the 1960's and early '70s. All four members sing, covering The Beatles, Beach Boys, Neil Diamond, The Temptations, CCR, Elvis and many more. Having played together since 2012, they're known for sounding "just like the records!"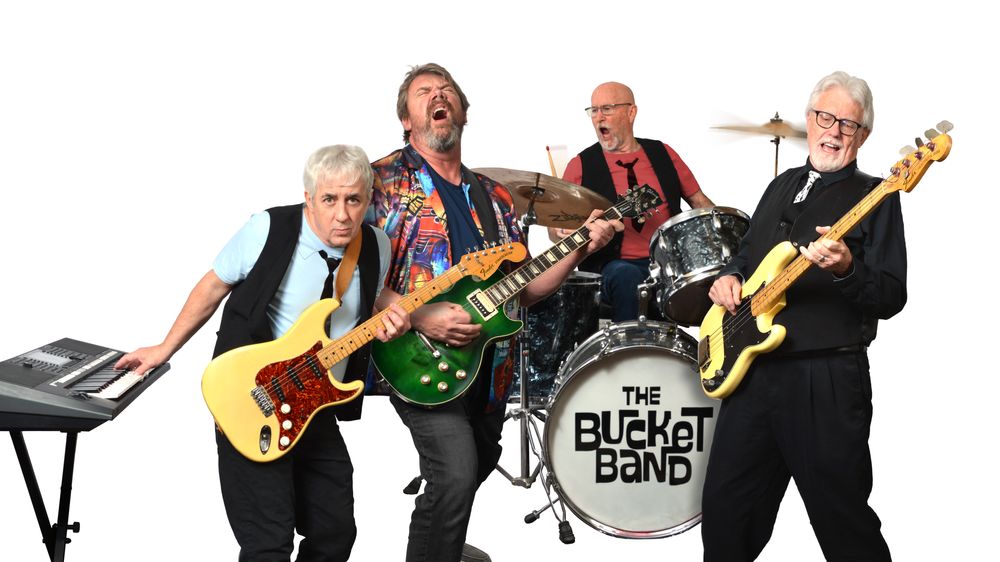 A Few Highlights...
Pre-game shows at Kauffman Stadium (2017, 2018)
Headliner at Lebanon, Missouri's Route 66 Festival (2019, 2021)
Headliner at Higginsville Missouri's Family Fun & Fireworks 4th of July Concert (2017, 2021)
Released CD, Vinyl Soul in 2017 - sold out within a year
Released CD, Still Kickin' in 2021
The Bucket Band (L to R): Tim Coulter, Bill Bishop, Brian Eads, Kerry Beach
If you need a promo photo that is formatted differently, or any other style of logo, please contact us at bucketband@me.com